Jesus of Nazareth: The only true God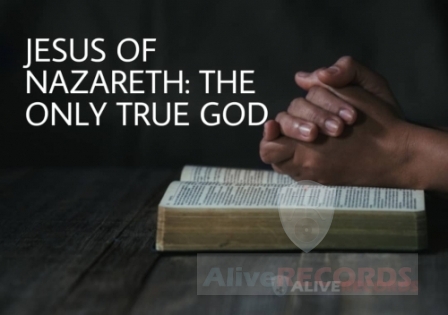 And we believe and are sure that thou art that Christ, the Son of the living God (John 6:69).
---
When Jesus walked the streets of Galilee, Capernaum, Jerusalem, many didn't quite give attention to who He really was. Today is Christmas, the celebration of the birth of Jesus.
Yet, the most that some know about Him is that He was born of a virgin, while others see Him as one of the greatest miracle workers to ever grace Israel. But His life was more than miraculous.

When Jesus walked the earth, He was God in the flesh; all of divinity was tabernacled in Him. He was the living body of the Almighty God. He was God alive, walking and talking in a man's body. Read what Colossians 1:19 AMPC says about Him: "For it has pleased [the Father] that all the divine fullness (the sum total of the divine perfection, powers, and attributes) should dwell in Him permanently."

This should help you understand John's statement in John 1:14: "And the Word was made flesh, and dwelt among us, (and we beheld his glory, the glory as of the only begotten of the Father,) full of grace and truth."
Jesus was the glory of God manifested to us. Hebrews 1:3 AMPC says, "He is the sole expression of the glory of God [the Light-being, the out-raying or radiance of the divine], and He is the perfect imprint and very image of [God's] nature, upholding and maintaining and guiding and propelling the universe by His mighty word of power…."

Jesus is the love of God manifested to us. He showed us a good example by loving everyone unconditionally, including His accusers. He loved and offered His life for us as a sacrifice for our sins: "Be ye therefore followers of God, as dear children; And walk in love, as Christ also hath loved us, and hath given himself for us an offering and a sacrifice to God for a sweetsmelling savour" (Ephesians 5:1-2).

Romans 5:8 says, "But God commendeth his love toward us, in that, while we were yet sinners, Christ died for us." These aren't the attributes or works of a religious leader. No one in history loves, or could ever love like Jesus.
He was God's light, of whom John the Baptist bore witness, so that all men through Him might believe. John 1:9 says of Jesus: "That was the true Light, which lighteth every man that cometh into the world." Amazing reality!

No wonder He's celebrated, honoured and adored in heaven and in the earth.
He has the greatest honour even in hell. He's the greatest of all.
The only one who could save man to the uttermost, and make the divine life available and possible for all men to receive: Jesus of Nazareth—the only true God!

---